Your beautiful journey starts here
Start your journey with an exciting yet low-stress planning process. The focus is all on you. Whether you have your wedding outside in our gardens or inside the mansion, we'll guide you in planning out all the spaces and manage the wedding details, including any special enhancements or embellishments you desire. Having hosted over three decades of weddings, there's virtually no request we can't fulfill. This makes Florentine Gardens the premier choice in New Jersey for polished, personalized and professionally run weddings. Contact us to begin planning your wedding at The Estate at Florentine Gardens.
"From top to bottom, day one until after our wedding, Florentine Gardens went above and beyond! It was better than a dream come true because we could never have imagined such a perfect day."
Let's take a look at your wedding day
Leisurely begin your day
Have relaxing, quality time with your wedding party. The couple suites offers ample luxury seating, mirrors, styling/barber chairs, TV, billiards, a bar, and private restrooms.
You bring the gowns, tuxedos, wedding party, and any favorite family members. We'll put out refreshments, a continental breakfast, a delicious lunch or whatever else you need to relax and begin your beautiful day.
Contact us to begin planning your once-in-a-lifetime wedding day at The Estate at Florentine Gardens.
Guests are welcomed into our Grand Foyer.
Walking into the lobby beneath the stunning 10' chandelier, you and your guests will be greeted by a white gloved attendant with a variety of chilled champagnes and sparkling water accompanied by seasonal berries. This renovated room, accented in various white and neutral shades and with French furnishings and architectural accents, is stunning. It features a European limestone fireplace, great for taking family photos and both a staircase and wrought-iron Romeo and Juliet balcony that's perfect for couples' pictures. Contact us to see it for yourself with an on-site tour!
Breathtaking settings for your ceremony
Next, comes your ceremony…
Let Florentine Gardens be idyllic escape and a place to feel pampered. Guests will love the Georgian exterior design, surrounded by our seasonal gardens, featuring fragrant pink and red rose bushes in the warmer months, mums and colorful cabbages in the fall, and a sparkling world of twinkle lights and, with a little luck, fresh snow in the winter. The focal point of our gardens is a romanesque gazebo, which can be decorated and adorned to your liking. It makes for a breathtaking backdrop for photography as does our outdoor veranda and other picture-perfect locales and strategically landscaped features.
Prefer to marry indoors? Romantic, on-trend, spacious and comfortable, our large indoor ceremony space, complete with high-tech lighting and enhancements, can be customized to look and feel like whatever you imagine. We like to say you can bring what's traditionally inside to the gardens or bring the gardens inside—make it your way!
Then, the cocktail hour…
The newly renovated space hosting our Cocktail Hour comes with a bar stocked with premium liquor, an assortment of appetizers of your choosing, and seating options inside, out on the terrace, and in the adjacent Pavilion. We bring a la carte service and the finest cuisine to your wedding day.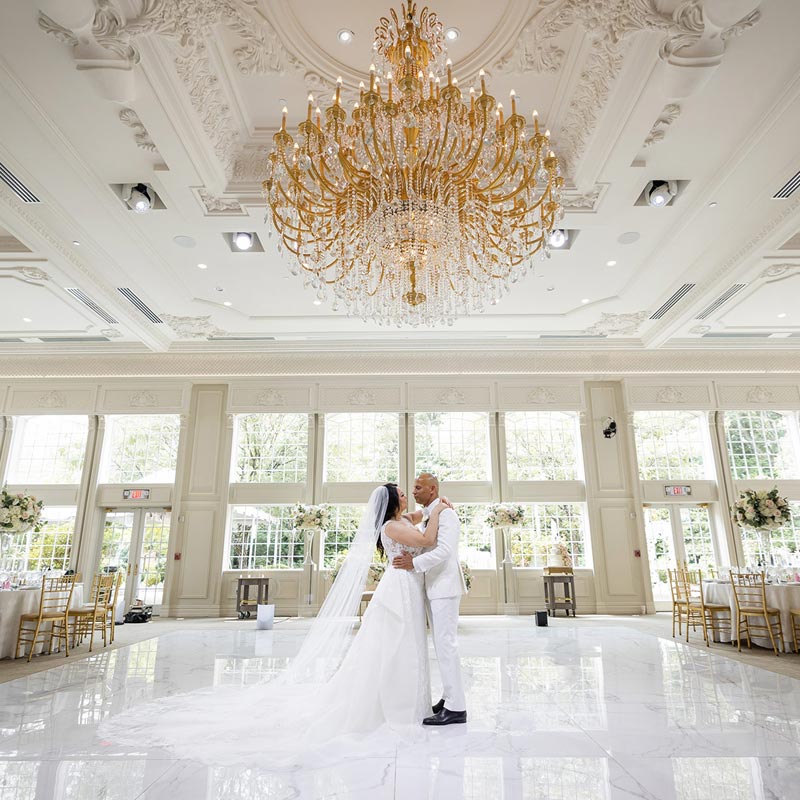 Finally, the Grand Ballroom…
The newly renovated Grand Ballroom – with breathtaking 10-foot sparkling crystal chandeliers, and magnificent Juliet balcony – accommodates 360 guests. The surrounding windows extend from floor to an impressive 25-foot high ceiling, offering loads of natural light. Sal Travis, our director of entertainment and services, can enhance with the indoor lighting and tech of your choice, this majestic ballroom accommodates 350 guests. Sal Travis, our director of entertainment and services, can enhance the ambiance though state-of-the-art built-in lighting and technology. Contact us to start planning special day at The Estate at Florentine Gardens.